Quotes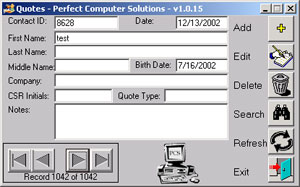 Track Client Quotes, quickly and easily!
Perfect for a fast paced call center environment.
Add, edit and delete contacts and quotes with the click of a button. Perfect Quotes can be used as a stand-alone application, or networked, to share the data among multiple users. The search button allows for easy retrieval of information.
For More information or to order please contact us today!