NextPOS Restaurant Menu Programming Service
NextPOS is no longer available for new installations. We may be willing to offer tech support on a case by case basis for current installations.
Perfect Computer Solutions is currently developing our own Point of Sale software solution. Please contact us for details.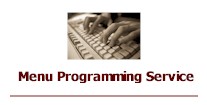 Just received your new NextPOS For Restaurants software, and need to get online with your point of sale solution fast?
For as low as USD$395.00, our professional staff can help you create your basic initial restaurant database.
Once we have created your database, you will be able to download it from our Internet web server in just a few short minutes. It's that easy.
Due to the differences in each restaurant's menu and information, prices will vary. Our minimum service fee is USD$395.00. However, we will be able to give you an exact quote once we have evaluated your menu & other related information that need to be programmed.
Of course, creating the database yourself is just as easy!