BizFon Demo Phone System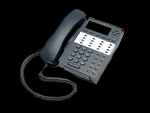 Finally there's a telephone system with all of the features a small business needs, at a price virtually any small business can afford. It's called the Bizfon. Now you can get a complete phone system equipped with built-in voice mail and easy-to-use feature phones for less than $2500!
Here's a sampling of what the Bizfon includes as standard features:
Connects up to 6 external phone lines and 8 extensions, expandable in multiples of 6 lines and 8 extensions up to a 24x32 configuration.

Full set of PBX/key system features (Hybrid System)

Built-in voice mail with private mailboxes for all extensions. An optional voice vault card is available for additional virtual mailboxes and additional voice mail time.

Automated attendant answers multiple calls at one time.

Transfers calls to any extension, and forwards calls to any phone, in or out of the office.

Bizfon automatically creates extension number directory of all users.

The Bizfon works with conventional analog telephones instead of proprietary digital phones.

Bizfon comes with voice prompts to assist you in accessing all features and gives immediate access to Customer Care by dialing extension 299.

Multi-Tenant features are also available. This allows 1 Bizfon 680 to handle up to 3 tenants each with their own Auto Attendant.
If you've been waiting for a phone system with features like these at a price you can afford, the wait is over.