Perfect Shop Pro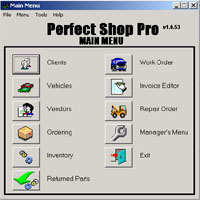 Perfect Shop Pro is a comprehensive Auto Shop software solution. Shop Pro handles your daily tasks with ease! Enter new customer and vehicle information. Track your inventory and ordering. Generate Work Orders, Repair Orders, and Invoices. Keep Employee information available at a click of a button!
Perfect Shop Pro includes many reports, to keep your business on track, and profitable.
Perfect Shop Pro is secure, and flexible so that employees can do what they need to complete their jobs, but sensitive information can remain confidential.
Contact Us today for more details and pricing.