Perfect Schedule Pro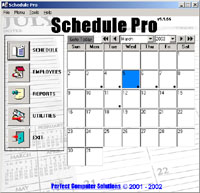 Perfect Schedule Pro was created to assist small to mid-size businesses with all of their Office Scheduling needs. Schedule resources such as meeting rooms and company cars. Track and modify multiple employees schedules quickly and easily. Perfect Schedule Pro, is a scheduling software solution that can be used alone as a networked office schedule, or can be synchronized with MS Outlook.
We also offer a separate online sceduling web module, so that your schedule can be viewed online, from anywhere!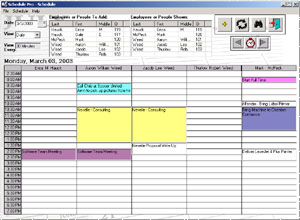 Perfect Schedule Pro lets you schedule appointments for everyone in the office.
Have a fleet of delivery drivers? No problem! Need to schedule Multiple Service Technicians? Meeting Rooms getting double booked? With Perfect Schedule Pro, you can see and change the schedule with ease.
Perfect Schedule Pro makes it easy to stay organized and on top of all of your appointments.
Please Contact Us for more details or pricing.