Perfect Barcode Pro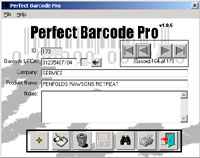 There are many software packages written to accommodate today's rigorous inventory needs. Perfect Computer Solutions, Inc. has created a simple, affordable and customizable barcode application.
How can employee theft be minimized?
How much should products cost?
What is the original purchase price of a product?
What do we have in stock?
What should be ordered?
Where did a product come from?
Where is a product located?
How are products inventoried with no barcodes?
All of these questions can be easily answered by using an inventoried barcode system.
We can design and customize an inventory system to fit any need. We can also incorporate our software to work with existing software packages. Simple software has already been developed to print barcodes for existing products without original manufacturer barcodes. To see a demo of this product, or to order please Contact us today! Custom sizes and barcode types can be used to meet any application demands.