Web Design
Website Pricing and Maintenance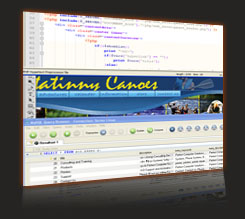 Perfect Computer Solutions, Inc. works with each and every client to develop a web site that is personalized. In order to determine your needs, we set up an initial consultation, giving us the opportunity to get to know you and your business. After determining your needs, we can provide a price quote.
Once your site is designed and launched we provide maintenance services. We log the time spent on the site and bill when an hourly amount has accumulated.
We also offer yearly web maintenance contracts, which will allow blocks of time to be purchased, at a discounted rate. Blocks of time are available in 10 hour increments. This also insures your changes receive priority. Contact us for more information or to schedule an appointment!
Website designs can include any of the following:
Graphic Design & Logos
Custom Web Programming
Server Side Scripting (ASP, PHP, Perl)
Flash Design and Development
Social Media Integration (Facebook, YouTube, Twitter)

Customizable Content Management Systems
Shopping Carts
Search Engine Optimization (SEO)
Database Integration (MySQL, MSSQL)
Custom RSS Feeds